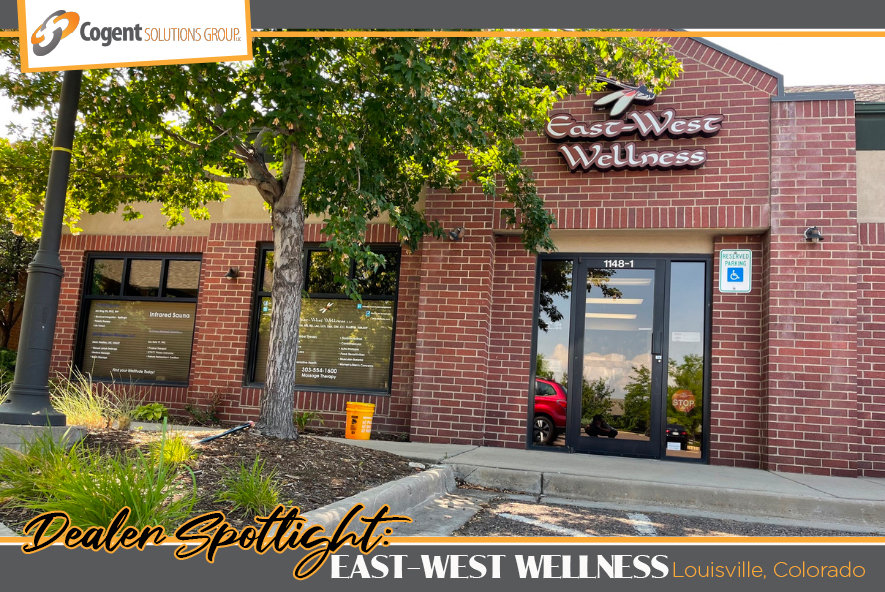 Our September Dealer Spotlight is East West Wellness, a holistic wellness center located in Louisville Colorado. They have been supporting their community for over 17 years and currently have patients in over 15 states. Donna Sigmond is the owner and main practitioner. She has 22 years of experience in Nutrition as a Registered Dietitian and Research Bio-nutritionist with CU in Boulder, 17 years in Oriental Medicine including acupuncture and other Chinese Medicine modalities and she holds a Doctorate in Chinese Medicine. Donna is also a Certified Genomic Medicine Clinician. Their other practitioners include Kaely Shull, Acupuncturist & Chinese Herbalist, and Mary Hardiman, Licensed Massage Therapist, Rolfer, and Personal Trainer. EWW also houses an infrared sauna.
Why do you love Cogent Solutions Group Products?
We learned about these products after a webinar in which a Ph.D. was discussing the differences between high molecular HA versus low molecular HA. As the owner of EWW, I was experiencing my own knee issues, including a torn meniscus, and I was doing research on possible treatment. Soon after I discussed HA injections with my own doctor I was excited to find a product that would help me in my path to recovery, as well as have a product that I could suggest to our patients. We currently carry and suggest Baxyl® to any patient who feels like they need extra support in improving or healing vital fluids such as viscous of the eye, soft tissue, joints, and skin. We have also started carrying Trixsyn® Canine, as we have a few patients looking to support their fur babies too.
Store Name
East West Wellness
Contact Person
Kaely Shull & Donna Sigmond
Address
1148 W Dillon Rd, STE 1
Louisville, Colorado 80027
United States
Phone
(303) 554-1600
Email
Website