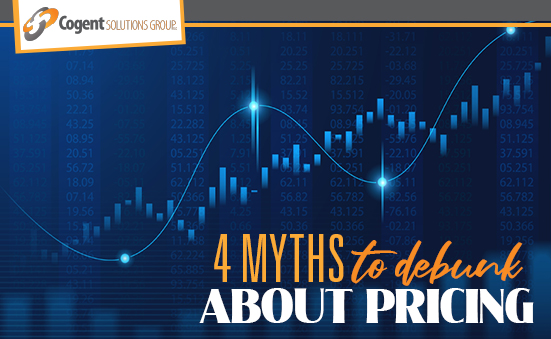 Pricing tends to be looked at as this ominous figure in business that is so difficult that most are left paralyzed. As one of the least studied branches of marketing, pricing has become a black box for many dealers, who simply adopt existing prejudices and misinformation.
Put simply: if pricing is a black box, you're losing money. A lot of it.
Therefore, let's dispel some of the most common myths so you can be catapulted into action and start capturing all of that lost cash you're leaving on the table. Increased revenue makes every business owner happy.
Myth #1:
We need to accept market or competitor pricing.
Basic microeconomics teaches that in perfect competition, individual companies cannot affect market prices. In other words, businesses must accept the equilibrium price, where the demand curve crosses the supply curve. While this is a convenient way to calculate price, this theory doesn't correctly reflect how the real market works. Prices in any market span across a range, rather than fixing on only one point. Product and service differentiation through brand, quality, etc. can all affect where your business lies on this range.
TRUTH: No matter the density of your industry, product and brand differentiation can take you well above the market standard.
Myth #2: The only way to increase volume of sales is by decreasing price.
It may sound too good to be true, but it is indeed possible to raise prices and increase volume at the same time. Price isn't the only factor that attracts customers. Focusing on giving customers a reason to pay a higher price for your product or service is crucial, whether that be greater quality or better service. A powerful tool is market segmentation. Most products have a target audience. Creating different classes for your product depending on quality or services can expand the number of customers you cater to, thus increasing buyers. Additionally, sometimes lowering your price can actually deter people from buying your product. Think about it. If I came up to you and said I'd sell you an Apple MacBook Air for $100, you wouldn't buy it, because you'd definitely question the quality.
TRUTH: Volume is created by customer segmentation, charging different sets of customers different prices, and thus increasing volume and revenue.
Myth #3: We need to charge lower than everyone else.
This is quite possibly the biggest misconception. A race to the bottom is one of the worst ways to compete, because you end up underpricing and losing out on your customer base. Your customers begin to question the quality of your product but needs to buy the product. So, they continue to shop around, and you lose customers. Lower prices equal lower revenue rates, which means the number of sales must increase to cover the loss. Obvious, yes, but it needed to be stated. Additionally, a lower price tag doesn't mean customers will automatically flock toward your product.
TRUTH: Underpricing is rarely the solution to any pricing woes. You end up dropping into a different segment of customers and lose out on cash from your current customers.
Myth #4: Pricing isn't important.
Pricing is the most important aspect of your business. Period.
A 1 percent improvement in pricing results in an average increase of 11.1 percent in operating profit. No other business lever has that impact – not cost optimization, volume increases, or anything.
TRUTH: Pricing is, bar none, the lever in your business that has the highest impact on the most important cell on your end-of-month spreadsheet – your revenue. You need to take it seriously.
Source: http://www.priceintelligently.com