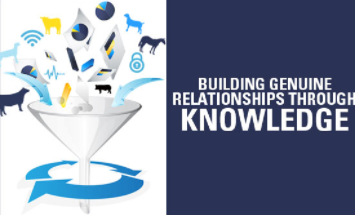 While many "Know Your Customer" resources focus on gathering data or technology that effectively helps you stay in front of your audience, we never want to undermine the value of a genuine customer relationship. The supplement nutrition industry tends to be especially relationship driven, producing easy conversation, a real understanding of customer needs and a true comfort level between the business and customer. As this is something we also strive to do in our daily business dealings, we want to offer a few techniques to ensure customer relationships are genuine and true.
Be patient in building new relationships.
Relationships take time. Resist indulging in disingenuous schmoozing, as it can be a severe put-off. Instead, take the time to get to know your customer, and share a little bit of yourself. Most importantly, remember that the product and service you provide is paramount in building a relationship. At the end of the day, no amount of personal connection can substitute for great products and excellent service.
Understand the business.
We have a vast amount of segments within the supplement nutrition market. Learn to speak the same language as your customer, understand what keeps them up at night, and cater your interaction and product recommendations accordingly.
Go the extra mile.
As you grow your business and your customer relationships, there will be times that you will have to make a decision on when to adjust or expand your products and services to cater to the needs of a customer. The benefits of offering customized solutions are two-fold: 1) customers remember the times you came through for them and 2) it may open additional revenue streams and new product offerings you had not previously considered.
Treat every client as your most important one.
Simply put, happy customers are more likely to make referrals. Provide all customers with your best service, regardless of the endpoint. You never know whom your customers may know or to whom they will refer you.
Respond promptly.
When a customer calls, emails or messages you on a social channel, acknowledge the receipt of the communication as quickly as possible, even if you do not have the answer they are looking for. You will give them comfort by simply acknowledging the receipt of their request and by communicating that you are on it. This may seem like a no-brainer, but we often see dealers worry about having the right answer, and as a result, they forget to acknowledge that they are looking for a solution.
Show up.
Every customer segment in your business has events they attend. Seeing your face and knowing you care enough to attend these events to show your support or learn more about their involvement will not go unnoticed. Consider participating in those events, offering your time or sponsorship. With every new technological advance in communication, there is nothing more important or powerful than face-to-face interaction.